Our Story
Deer & Dexter is owned and run by us - that's Jane Emerson and Peter Stoeken - and is based on a 210-acre farm near Penrith on the northern edge of the Lake District national park in Cumbria.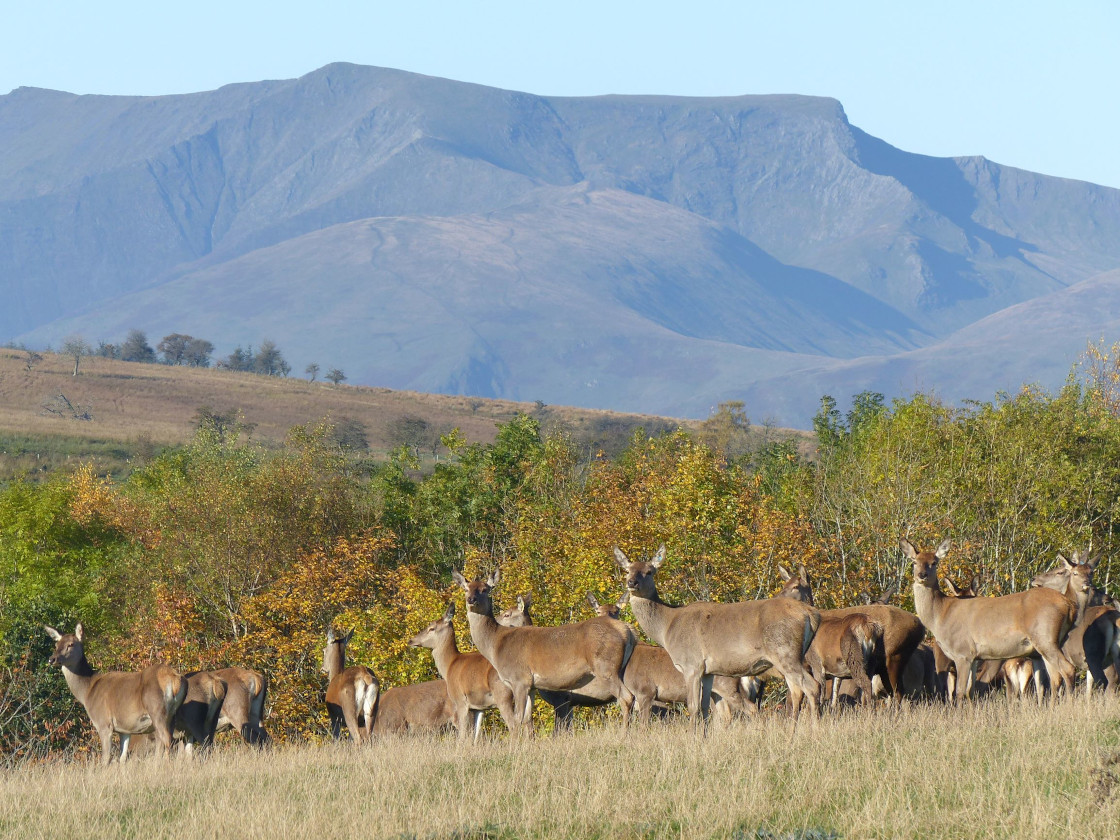 Red deer with Blencathra in the background
Our History
In 1987 we bought our first deer and took our first steps in farming. In 1990, we extended our 7-acre small holding by 90 acres. Since then we have survived all sorts of challenges, increased our land holding and built our farm and business into something we are proud we have achieved.
In 2001, post foot & mouth disease - after we lost all our stock, we had the opportunity to make significant changes. We knew that if we wanted to carry on farming then we needed to make the business more sustainable. We made two key changes; we started to add value by marketing meat rather then finished livestock and we introduced cattle to our farm. From a few small sales late in 2004 we now sell, mainly to the end consumer, all the venison and Dexter beef we produce and have our own licensed slaughterhouse and cutting plant (butchery) on the farm.
Our Meat
We take our cattle to a local abattoir – to reduce stress on the animals and then return the carcases to our cold room for maturing, we dry age them for three to four weeks as a carcase. With our own dedicated deer slaughterhouse on the farm our deer travel even less food miles, and none of them in a trailer. Our skilled butcher prepares the meat to a high standard, cutting and preparing to suit our customer's requirements.
We hand make all our sausages, burgers etc, using simple recipes with minimal additives, no artificial colours and natural skins. Gluten free options are available.
We vacuum pack all our meat to extend its shelf-life, particularly when frozen, and to minimise the risk of contamination. Every item is individually labelled with product details, weight, use by date and storage instructions.
Our Team
We love what we do - and we are fortunate to have great support, we're a small team; butcher Rob works on the farm when all the meat's cut for the week and we can call on local farmer's like David to help out when we need an extra pair of hands or need his years of farming experience.
Our Commitment
We are proud of what we have achieved and passionate about our business, we're committed to achieving the highest standards in every aspect of what we do – how we care for our animals, how we hang and mature our meat, in the skills we bring to our butchery and in the service we provide to customers. Last year in recognition of this we were the surprised recipients of the Cumbria Life, Taste of Cumbria, Food & Farming Award, it was a great honour to be recognised in this way.
Red deer and Dexter cattle are great to work with, the Cumbrian landscape we work in is beautiful and we enjoy producing high quality meat sustainably in a way that fits with our personal beliefs. Our aim always having been to combine the best of traditional farming and land management techniques with current technological and modern ideas to improve what we do. Farming in upland areas such as ours can be tough but we hope that we have found ways of turning some of the disadvantages into opportunities.